Welcome Baby
In conversations with City staff and local parents, we heard that for new families knowing what resources are available and how to access them can be challenging. We heard this sentiment voiced again and again by families from diverse backgrounds, from a teen mother to a long-standing city official: "There are so many great services available in Somerville. Help is out there but you need to know where to look and how to get the help." We started to ask ourselves the question: How might the City of Somerville welcome families with new babies, providing them with information on the social services available such as developmental screenings, home visits and playgroups?
We had heard from our first meeting with our city partners and again throughout our Fellowship, the story of a teenage mother who had given birth to an early-term baby. Discharged by the hospital with advice to seek early intervention services, the mother missed these crucial services as she moved from city to city. By the time her child entered kindergarten, she had developed severe mental and physical delays. One might assume that the mother was complacent in her child's care. This was not the case. She sensed her child was having difficulties and actively sought help, walking to a nearby school to seek professional advice. Unfortunately, the school was closed for summer break and she left empty-handed. It was only after entering the school system that the teacher identified the child as in need of special education and referred her to get the individualized support she needed.
Compelled to not repeat this story again, our city and school partners investigated the teen mother's journey to better understand what obstacles she faced, which doors closed, and what opportunities were missed. While the City has a strong network of social service providers including Somerville Public Schools, Somerville Family Learning Collaborative, SomerViva, and the Parent Information Center, we needed to understand how to make sure that all families, especially those isolated from the usual channels of communication, could learn about, connect with, and grab onto the lifeline that they need when they need it.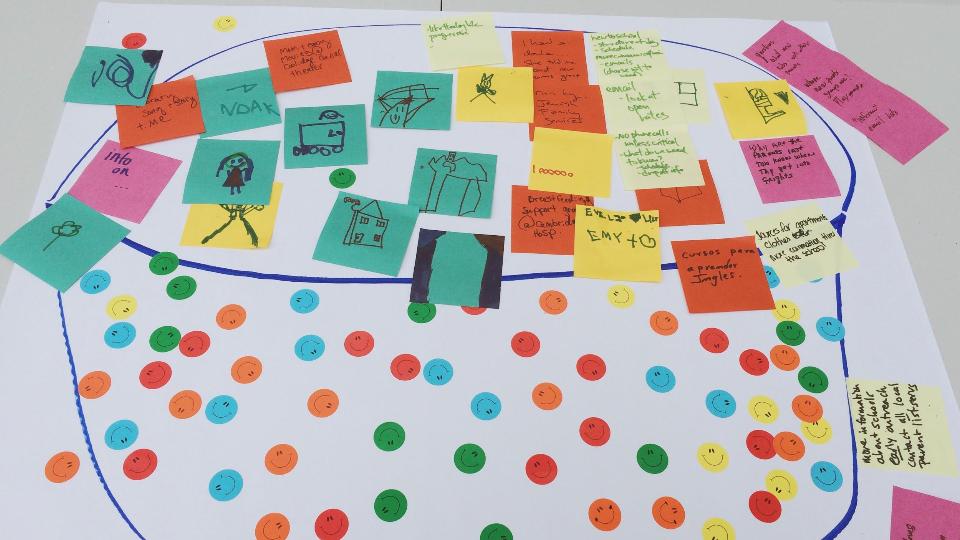 We set up table at the local grocery store, Market Basket, and at the Healey School Tot Lot to meet Somerville families and ask them what resources they wish they knew about when the child was born. We asked them if they knew who to turn to for support and whether they felt empowered to ask for the help they needed. We also interviewed the Somerville Family Learning Collaborative (SFLC) about the challenges they face when conducting outreach to parents. Lack of contact information for new Somerville parents was ranked as the biggest challenge.
Given this lack of a comprehensive directory of Somerville newborns, we want to test the concept that Somerville could leverage birth records data to locate and welcome new children. In collaboration with the Massachusetts Executive Office of Health and Human Services, we hope to get our hands on birth certificates that include contact information for newborn families which SFLC could use to reach a wider net of families than they currently do by word of mouth and canvassing. As Anna Doherty, Director of SomerPromise says, "It's precisely those first days and weeks when many parents need the most support of all and when long-lasting habits start to form."